Cyber Criminals Are Targeting Universities
Universities are getting barraged by cyber attacks. Organized crime and state sponsored attacks by foreign governments are going after universities and their data. According to the 2015 Cost of Data Breach study by IBM, 1.5 million annual cyber attacks occur which breaks down to over 4,000 cyber attacks every day. It's no surprise that many of those attacks are done specifically against universities.
In 2015, numerous colleges were attacked. The University of Virginia and Pennsylvania State University blamed their data breaches on Chinese hackers. At the University of Connecticut, their students Social Security numbers and credit card information was stolen. Washington State University, Johns Hopkins University, and Rutgers University were also attacked by cyber criminals.
"The landscape of who the attackers are has changed significantly," says Mark Nardone, director of IT security for Northeastern University in Massachusetts. "We're not in the '80s, where it's hobbyists coming after systems for a kind of self-gratification or bragging rights. Now we have people coming after resources that have tangible financial worth attached to them."
10% of reported security breaches in 2014 involved the education sector, according to Symantec's Internet Security Threat Report
.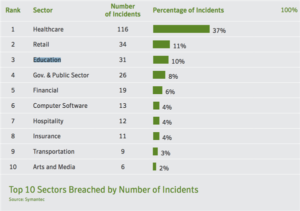 Bill Mellon from the University of Wisconsin recently did an overhaul of the school's network security and shared,
"We get 90,000 to 100,000 attempts per day, from China alone, to penetrate our system," said Mr. Mellon, the associate dean for research policy. "There are also a lot from Russia, and recently a lot from Vietnam, but it's primarily China."
College and university networks are appealing to cyber criminals for three main reasons according to Lawrence White, the Association of Governing Boards of Universities and Colleges.
1. Servers found in universities are full of intellectual data that is worth quite a bit to cyber criminals. as a university. Richard Pérez-Peña, a New York Times journalist who reports on higher education, stated that,
"Universities and their professors are awarded thousands of patents each year, some with vast potential value, in fields as disparate as prescription drugs, computer chips, fuel cells, aircraft and medical device,"
Not only do universities have this data, they also have the thousands and thousands of applications from hopeful students containing even more critical information enticing cyber criminals.
2. Unlike most for profit businesses, college and universities try to operate under an easily accessible system. Computer systems are managed in a decentralized way and are difficult to secure. Since these computer systems are difficult to secure, they become prime targets for cyber attacks.
3. The costs associated with cybersecurity is high and many IT departments lack the resources to keep the systems up to date. IT departments in universities may have hundreds or thousands of third party software programs that need to be updated constantly as new viruses are found. A few seconds or minutes of a delay in downloading and installing the new patch can create serious vulnerability issues. Those few seconds could be just the amount of time a cyber criminal needs to get into the universities' network.
Universities are getting attacked by cyber criminals so often, that the FBI has stepped in and created programs in an effort to assist universities with their cyber security. The College and University Security Effort (CAUSE) is a partnership effort between the FBI and academia that seeks to protect research, products, and personnel from foreign intelligence threats. It falls under the FBI's Academic Alliance Program. The FBI states they will even send an agent to the university to discuss cybersecurity and will train students, researchers and administrators.
If a university fails to safeguard their data, a data breach will cost them millions of dollars. Repairs, remediation costs, consultancy fees, and preventative help are just a few things a university needs to consider. Consider Rutgers University, who spent approximately three million dollars this past year to clean up the mess that hackers made after their network was knocked offline four times.
How can Axiom Cyber Solutions help your University?
Axiom Cyber Solutions is offering Managed Cyber-Security Protection for Small Business starting as low as $199 per month. We realize that most small businesses do not have a dedicated IT team and business owners may be handling their cyber security matters on their own. Let us take over and provide you with peace of mind. Axiom will provide your business a firewall and manage it so you don't have to worry about securing your business. We will assess the security risks for your business and will help implement the right cyber security service for your business.
Axiom's solutions come in different sizes and all our solutions are designed to deal with the attack vectors of today while being adaptive and flexible enough to continue to secure your network for years to come. For more information, check out our website at axiomcyber.com or give us a call us at (800) 519-5070. #FightBackWithAxiom