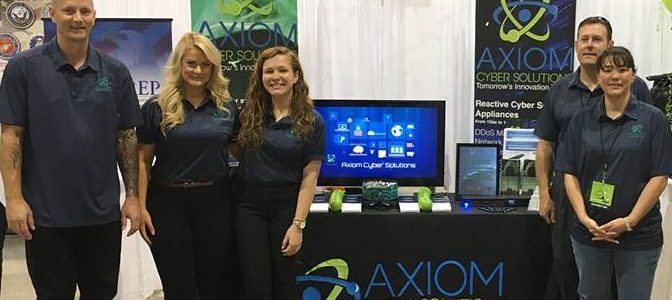 Axiom Cyber Solutions is a Las Vegas-based managed cybersecurity company that aims to provide simple solutions to major problems for small to medium sized businesses and beyond to help them fight back against cyber-criminals. At least, this is what they'll tell you when you first meet Troy, Shannon, or anyone else on the Axiom team—but this is only part of their story. Yes, Axiom is a company that provides high quality cybersecurity to those who need it most—small businesses—but I've learned over the duration of my internship that they are so much more than that. The best way for me to explain is to tell you about all of the people who impact and are impacted by Axiom:
The Employees
The saying goes "A company is only as good as its people"—if this is true, then Axiom is golden. Though there are only a few of them, the Axiom staff is comprised of some of the hardest working, dedicated people you'd ever hope to meet. Working for a start-up has its challenges, but you'd never know that looking at the faces of these employees. From talking to Jade upon your arrival at our offices, to discussing the intricacies of the technology with Adam, Axiom team members are friendly people who only want to help you.
A lot of young professionals seek a company with a distinct, welcoming culture to start their careers, and you'll find exactly that at Axiom Cyber Solutions. Though we all have our own space in our own offices, everyone's door is always open for questions or advice. Something I've really enjoyed is being able to collaborate with so many different minds on various projects, and the team atmosphere is extremely strong within Axiom.
The Customers
A company may only be as good as its people, but companies would be obsolete without their customers. From a local indoor playground run by an awesome couple (just like Troy and Shannon) to exciting casinos in downtown Las Vegas, Axiom has a wide range of customers whom they work diligently to keep happy and protect. These customers are people who recognize the growing threats of cyber-crimes like ransomware and DDoS and know that they want high quality, cutting edge protection from them—for a price that fits their budgets.
The Community
In my ten weeks in Las Vegas working as an intern for Axiom, I probably encountered most of the local, small business owners and professionals from the numerous networking events I experienced. Something that I really admire about Axiom is their commitment to being involved in the local Las-Vegas community as well as communities across the country. Not only have they helped several companies do things like pay their ransom for ransomware attacks, replaced hacked PBX systems with secure ones, and mitigate DDoS attacks on a company's opening day, but you can tell that they genuinely care about the people they help protect by the ways they interact with their clients. Axiom cares about people's data and protecting the community that surrounds them is their superpower.
The Families
Axiom is not only a family of employees and customers, but we are a part of each other's families as well. Troy and Shannon Wilkinson are the CEO and President of Axiom Cyber Solutions, but they are also the proud parents of three sweet girls—Mackenzie (5), Kayleigh (3), and Abigail (2). Both Troy and Shannon's mothers come into the office regularly to talk with the employees and even sit in on a meeting or two while the girls will come and draw pictures on office windows to brighten everyone's day. It is clear that the Wilkinsons eat, sleep, and breathe Axiom.
But Axiom is not just about the Wilkinson family—they care about other employees' families as well. Be it going to birthdays, barbecues, or baptisms, you can see that Axiom is a family of families.
Me
I have learned so much from the two months I've been an intern here. From having to google what the heck ransomware was on my first day to being able to explain different variants of it to friends and family, I've come a long way in my knowledge of cybersecurity. But I've learned more than just what different cyber-threats are or how to program a firewall—I've learned things like how to network, what it means to be a part of a team, what it feels like to be proud of your finished product, and how you'll never know something unless you ask. Of course, there is so much more for me to learn, but I am happy that I started my professional career with Axiom Cyber Solutions. This is a place that, to me, will always feel like home.
Hailey Carlson, Axiom Cyber Solutions 7/22/2016